Interview by Chuck Joiner now online.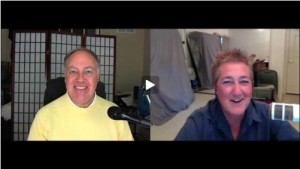 I'm extremely pleased to announce that my interview with Chuck Joiner on Mac Voices TV went live today. I hope you'll check out MacVoicesTV #1182: Maria Langer Helps You Make Movies.
This was the first time I'd appeared on MacVoices TV; usually, I'm on the audio-only version, MacVoices. In the background, you'll see the covered up stored furniture of my new office in Phoenix. You'll also get a chance to see my horrible haircut six full weeks after I was scalped. (Hint: There's still not enough to do anything with it except spike it.)
Chuck is a great host who always asks good questions. As usual, it was a real pleasure to be on his show. I hope you'll take the time to explore the other MacVoices episodes on Chuck's site. I'm sure you'll find plenty of interest there.
You can find a complete list of my recent interview appearances on my personal website.