Not a good combination.
I finally got around to installing my Canon LiDE 30 scanner — I know it's cheap junk, but that's all I need — on my iMac. Much to my surprise the driver installer didn't see Photoshop as a place to install a plugin. So I manually installed it And then it wouldn't work.
So there goes another hour of my time to troubleshooting the problem.
It appears that Canon doesn't have an Intel-native plugin for the scanner. The plugin was written for Power PC Macs. And Photoshop CS3 won't run Power PC plugins on an Intel Mac.
This explains why the setup worked perfectly well on my Dual G5 (did I mention it's for sale on eBay?) but won't work on my new iMac.
I found information for a workaround on the Adobe forum. (Can you believe actually found helpful troubleshooting information on Adobe's site?) The topic title is Scanner not recognised in Photoshop CS3. Someone named Buko suggests running Photoshop in Rosetta and explains how to do it:
do a get info on the CS3 application and check the start in Rosetta button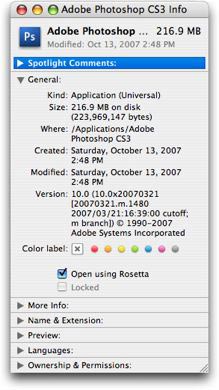 I followed these brief instructions (see screenshot) and restarted Photoshop. And guess what? It worked.
Rosetta is an Apple technology that makes it possible to run non-Intel native or non-Universal Mac OS applications on an Intel Mac. As this Info window illustrations, Photoshop gives you the option of running Photoshop in Rosetta when necessary to ensure support for older plugins. You can turn this option on before you start Photoshop to access otherwise incompatible software-driven features. You can turn the option off and restart Photoshop when you don't need those features.
I'm no under-the-hood programming expert, so I was wondering what the pitfalls of running Photoshop in Rosetta were. I Googled and found an article on tuaw.com titled, "Photoshop seems to run fine in Rosetta." Although the article is nearly 2 years old, I agree that Photoshop seems to work okay.
The suggestion on the Adobe support forum was to run Photoshop in Rosetta only when you expect to scan something. This is probably a good idea, especially if you do a lot of intensive graphics processing. But there are other ways to scan that don't require Photoshop at all. The CanoScan Toolbox software, which comes with the scanner, works fine and can send the image to Photoshop to be opened. That seems to be a good workaround, especially if, like me, you don't scan often.