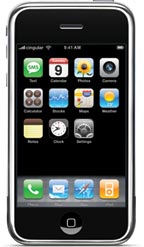 Incredible survey results in an article on AppleInsider.
Here's an interesting statistic from "iPhone could turn technology world on its ear" on AppleInsider:
As of February, awareness of Apple Inc.'s iPhone device had spread to nearly 50 percent of U.S. consumers, with a significant chunk of those people expressing sincere interest in buying the device without having first seen one in person, a broad market survey has shown.
Can you imagine? Developing a product that 50% of consumers know about — and many want to buy — months before the product's release?
Read the article for more details and marketing survey stats.
As for me, I'd like an iPhone, but have no desire to sign a contract with "the New AT&T" (AKA Cingular). I cancelled all of my AT&T services and sold all of my AT&T stock after a major run-in with their India-based customer service department. I'll wait until another carrier supports the phone before I get one. By that time, any bugs will have been worked out and the phone will be cheaper, anyway.